All customers want and deserve to have the customer service they need to operate their businesses. FVMT has strived to provide that service by investing in project management resources and tools. FVMT has a Program Management Department that is staffed with well rounded individuals that understand the needs of our customers including technical support, status updates on orders, ability to resolve issues, great communication skills, and providing all types of information.
FVMT uses the Program Management department to support our Sales and Production departments so that programs can stay on track and our customers can be kept up to date. FVMT has developed many tools to support the efforts of the Program Management department as well as other areas of the business. Our ERP system is utilized to maintain and store all the data on our orders. FVMT has developed reports that extract the data from the ERP system and organizes it to meet the needs of our Program Managers.
The Scheduling Report is an example of a tool created by FVMT that includes all the jobs for a customer and provides a status on every item. The report is a searchable document to find the item you are looking for with a description, a part number, or a job number. The information provided includes what operations are complete, if the work is being completed to the planned schedule (green yellow, and red status), provides p.o. number for any subcontracted services including estimated date the work will be complete, and how much time is required to complete the work. The report is linked to the ERP system so simply clicking on the job number you are provided a detailed job status report that tells you when the operations were completed, who did the work, how much time was used, and who is currently working on the item.
Example of report: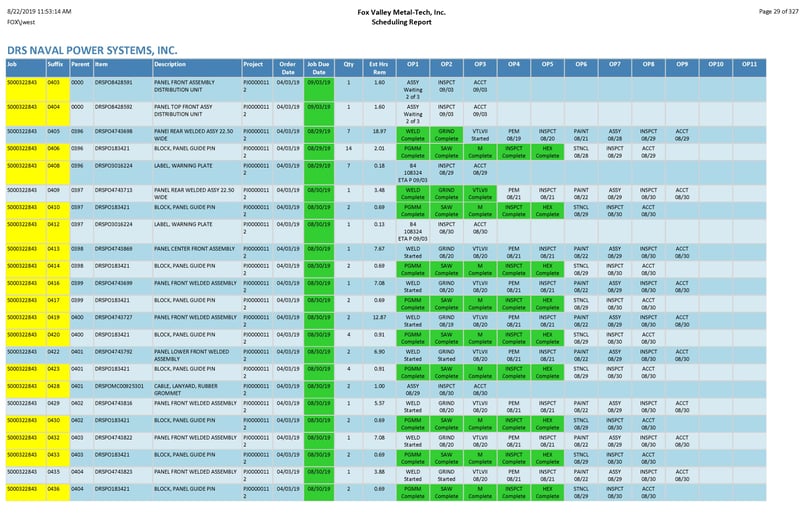 There are more than 30 reports that FVMT has customized for the business, all extracting data from the same data base in the ERP system. A few of them that are used often by the Program Management department are the Open Order Report, Job Status Report, and Purchase Order Report. These additional reports provide information about each Purchase Order, individual Jobs, and status of subcontracted work.
Program Managers along with Key Account Managers and other staff often have weekly meetings with FVMT's customers to review Integrated Master Schedules, Line-Of-Balance updates, and Open Order Reports. A team approach provides the support our customers need to keep informed on all their activities with FVMT.
FVMT has the facilities to accommodate our customer visits with multiple meeting space, collaboration areas, and access to large displays for sharing information.