For Complex Metal Fabrications
The final finish or paint applied to a complex metal fabrication can have a major impact on its durability, functionality, and appearance.
Fox Valley Metal-Tech has provided painting services for commercial and defense industry applications since 2015. Having every element of a project under one roof allows for better quality control and scheduling. With the most recent facility expansion of more than 78,000-sq.-ft., Fox Valley Metal-Tech can complete a project entirely in-house, from start to finish, including painting.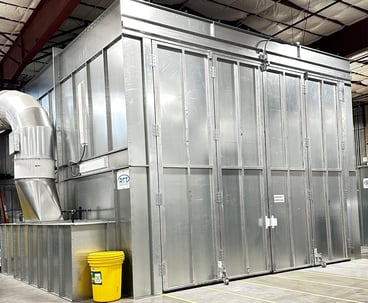 In-House Painting Booth Specifications
The two primary painting booths are 20-feet deep, 18-feet wide,
and 14-feet tall.
Additional high-quality equipment includes a dedicated iron
phosphate booth, wash booth, and a curing oven that can reach up to 500 degrees Fahrenheit.
Our painting facilities meet CARC military specifications and offer an endless selection of paint products, including MIL-DTL-24441 and MIL-DTL-22750 epoxy. Robust paint processes and procedures have been developed, audited, and approved by defense customers including:
Tight Tolerances Require Precision Painting
While tight tolerances and adherence to specifications is often considered in welding, similar attention to detail needs to be given to painting techniques and finishes. Highly skilled paint booth operators ensure proper masking to within .001-inch tolerances. They also must produce a smooth, even finish without drips, sometimes as thin as 15-25 microns, or up to .5 to 1 mils.
The Latest FVMT Blog Articles
Stay up to date on the latest metal fabrication news and articles from the experts at Fox Valley Metal-Tech.